---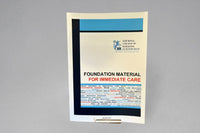 In the 1990s The Faculty of Prehospital Care produced a manual of core prehospital material, which was designed as a benchmark for training and education. This was labelled the FPHC Generic Core Material. A new updated version of this manual was published in August 2019, under the title "Foundation Material in Immediate Care Manual".
This latest edition has taken in to account many well recognised sources of high-quality clinical reference points and best practice, for example, the British Thoracic Society, Joint Royal Colleges Ambulance Liaison Committee and UK Resuscitation Council guidelines to name a few. In addition, it includes, where appropriate, extracts from consensus statements issued by The Faculty of Pre-hospital Care.
What's new: Many organisations provide training for responders starting off on their pre-hospital careers and on-going continued professional development. This manual has been designed to provide the foundation material and additional references for their training or on-going study.